TOP PICKS
OUR TOP 10 PARTY HOUSES WITH A HOT TUB
May 2023, by
With big houses being our thing, it's no surprise that many of our properties are great party houses. When you want to gather up your friends and family to celebrate a special occasion, whether it's your birthday, a special anniversary or a reunion of old pals, escaping to one of our luxury properties makes it an occasion to remember. And it seems that top of everyone's list for the perfect party is a hot tub. Rightly so. It's one of life's pleasures to sink into that bubbling embrace as you sip Champagne and watch the sun dip and the stars come out.
To help you make sure your party has the essential ingredient, here's our top ten list of UK party houses with a hot tub:
1. First on the list is the Scottish hideaway, Loch Tay Lodge. When you're not relaxing in the seven-seater hot tub admiring the mountain views, you can dance the night away in the purpose built party room or prop up the bar swapping tales in the games room. 
2. At the other end of the UK, in Wiltshire, Longhollow House is the just the venue for the ultimate pamper party, with a hot tub, sauna, steam room and plunge pool.
3. There's no shortage of party essentials at Horseshoe House, near Bath, maybe because in a former life it was a pub! As well as the all-important outdoor hot tub, there's a good sized bar, a games room and a Bluetooth sound system, so you can create a buzzing party atmosphere.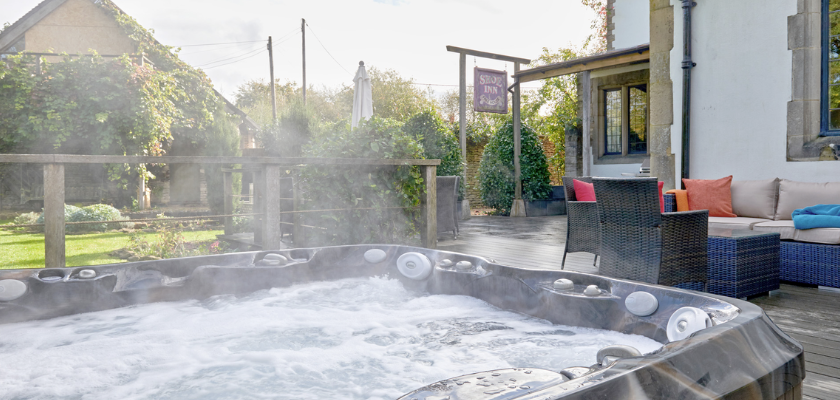 4. The spacious kitchen at Woodleaves House in Dorset is where you'll find most of the party people. And if they're not there, they'll be outside, lounging in the hot tub, or relaxing on the patio and enjoying food from the barbecue and outdoor pizza oven, or gathering round one of the two fire pits as the sun goes down on the six-acre garden.
5. Tucked away at the foot of the Malvern Hills, The Malvern Lakehouse is another property that lends itself to al fresco parties. There's a beautiful teak patio table seating up to 20, for barbecues and outdoor pizzas overlooking the 11-acre estate. The hot tub is all present and correct and, if you prefer something more invigorating, we can arrange wild swimming and paddleboarding on the lake.
6. The whole house is yours at The Wholehouse and that includes the eight-person, wood-fired hot tub. And what better location to relax in a hot tub beneath a starlit sky than the Brecon Beacons, one of only 20 or so Dark Sky Reserves in the world.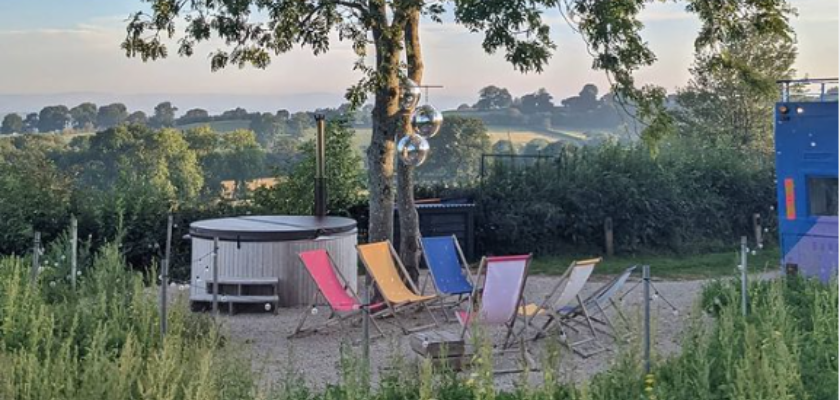 7. For a chilled-out party house with a sea view, Barford Beach House in Cornwall takes some beating. In this modern party pad, there's a bar and games bunker, cosy cinema room and those stunning sea views, captured through floor to ceiling windows. As if that weren't enough, you've got a spa with a sauna and a cold bucket drop. And, of course, a hot tub.
8. A stylish country house in Dorset, Charborne Manor is the setting for a dream holiday. The wood-fired outdoor hot tub is just one of many party extras that make this a great house for a celebration. Within a short drive of the coast, it's one to pick for a family celebration.
9. A hot tub in a Spanish courtyard…in Norfolk. That's what you get at The Hacienda, a whimsical and wonderful barn conversion with memories of old España. With a drinks fridge for up to 100 bottles, a delightful Spanish garden, and some amazing spaces to party, this is the most Spanish party house in the UK!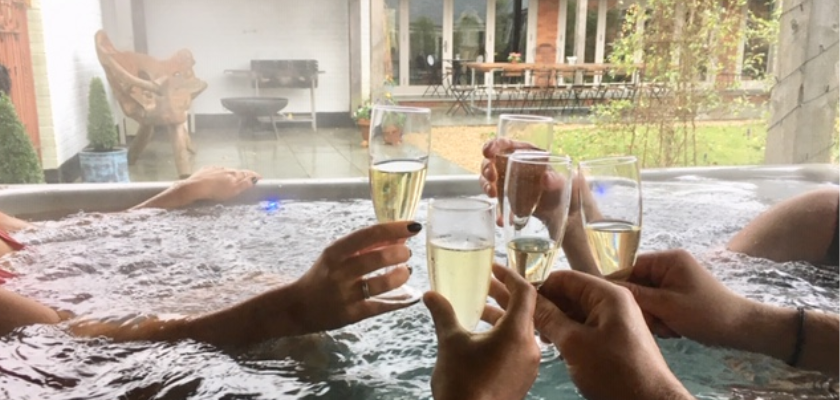 10. Take over Solent House with friends and family and it feels like you have a boutique hotel all to yourselves. The added bonus is a hot tub and sauna room out in the garden. There's also a bar with optional cocktail and drinks packages for your party.
These are our hot picks for party houses with hot tubs. We have many other options, either with or without a hot tub. Have a look at all our party houses and if you're struggling to choose, give us a call on 01242 352 747 and we'll help you to find your perfect party house.

SIGN UP TO OUR NEWSLETTER
Be inspired with our latest houses and ideas