DESTINATION GUIDE
FROM THOMAS HARDY TO THE JURASSIC COAST: YOUR ULTIMATE GUIDE TO DORSET
May 2023, by
Welcome to Dorset, a county of contrasts. The rugged Jurassic Coast arches with dramatic headlands and sea-lashed cliffs, but is also dotted with idyllic bays and family-friendly beaches, while scattered upon a canvas of fabled green countryside are the lively and colourful towns of Bournemouth and Poole.
It's perhaps no surprise then that Dorset has been a popular destination for UK holiday-makers and international visitors for generations. To help you get the most out of your time in one of the country's most varied and charming counties, we've put together an exclusive insider's guide to its highlights and hidden gems. Shh – don't tell.
Lovers of the outdoors are drawn to Dorset like a magnet, thanks to its gently rolling hills and atmospheric coastal landscapes. Each season offers its special sights: in spring, pastel bluebells carpet the floors of hazy woodlands, in summer the emerald greens of the heaths are warmed by a gentle sun. Autumn sees an explosion of warm, russet leaves lining quiet rural avenues, while the barren beauty of winter embraces snow-blanketed hills and mulled wine around roaring fires.
In fact, the lyrical beauty of Dorset's natural landscapes have inspired some of the greatest literary minds of recent history. The quaint market towns and river valleys are inextricably tied to the pastoral works of the great Thomas Hardy. Known for his depictions of rural life, Hardy was born and spent most of his life in Dorset. He may have changed the names of his locations (Bridport became Port Bredy, Dorchester became Casterbridge) but his evocative descriptions are unmistakeably rooted here.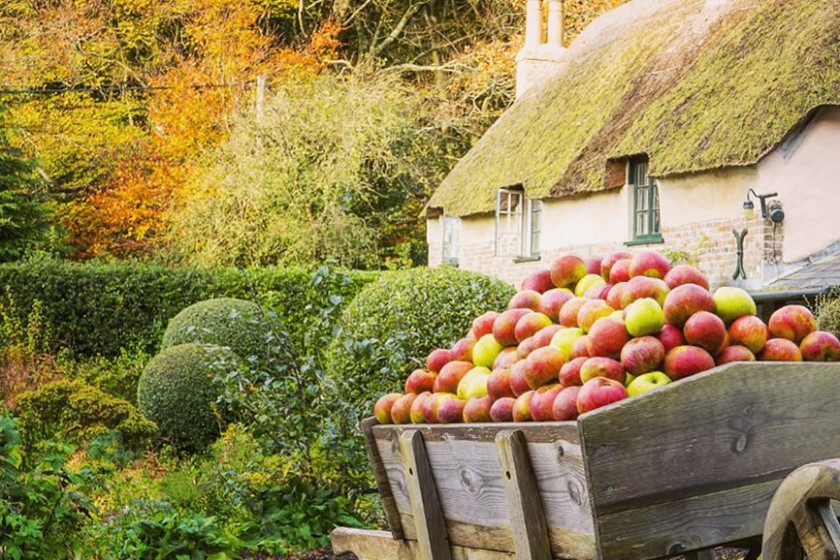 Follow in Hardy's footsteps by visiting the cottage close to Thorncombe Wood where Hardy was born in 1840. Hardy's famous poem "Domicilium" perfectly captures the gentle, slow pace of life here. The imposing, Victorian Max Gate was Hardy's later home and was designed by the author himself – it's an impressive red-brick structure with turrets sitting on the edge of town. Max Gate no longer contains Hardy's study, but you can find it at the Dorset County Museum in Dorchester. Nearby is the timeless village of Evershot, where Hardy was said to enjoy a drink at the Acorn Inn. Here, you'll also find the thatched cabin known as Tess Cottage, made famous by one of Hardy's most well-known works, Tess of the D'Urbervilles.
Iconic literary figures aside, there are plenty of hikes and walks to enjoy in Dorset – so many so, in fact, that over half of this county is a designated Area of Outstanding Natural Beauty. Here are a couple of our favourites.
Lewesdon Hill
As the highest point in Dorset, Lewesdon Hill is an unmissable spot. After a moderate, wooded hike, you can enjoy vistas across to Somerset. The array of trees makes this walk particularly enjoyable on a crisp, autumnal day.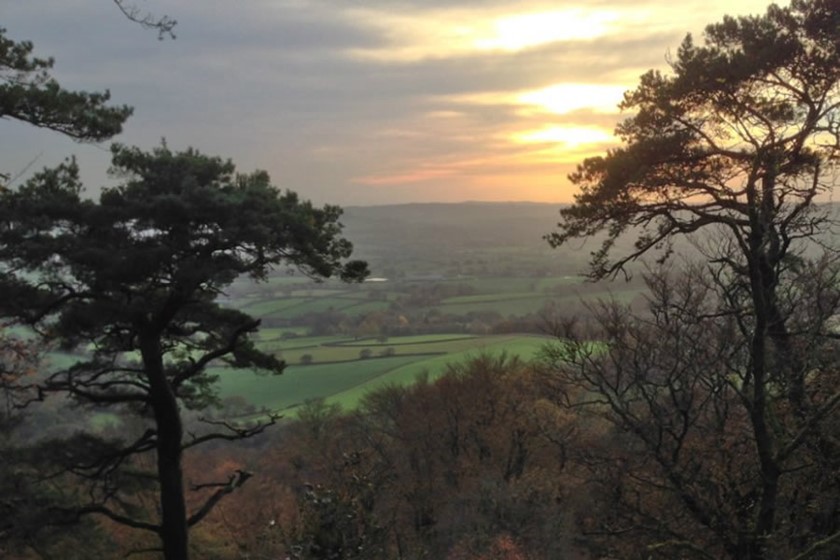 Lewesdon Hill
Worth Matravers and Dancing Ledge
These landscapes inspired the artist Charles Rennie Mackintosh, and you can explore them for yourself on this route, which runs along the Purbeck limestone coast between Dancing Ledge and Seacombe. On your way back, take a break at the Worth Matravers Tea and Supper Room to sample a famous Dorset cream tea (you've earned it).
Hodd Hill
This route is perfect for those looking to squeeze in just one more walk on their Dorset holiday –  it only takes 30-40 minutes to complete, and is just one mile long. With Iron Age and Roman forts along the way, it offers spectacular views out across the Dorset heathlands, river and countryside.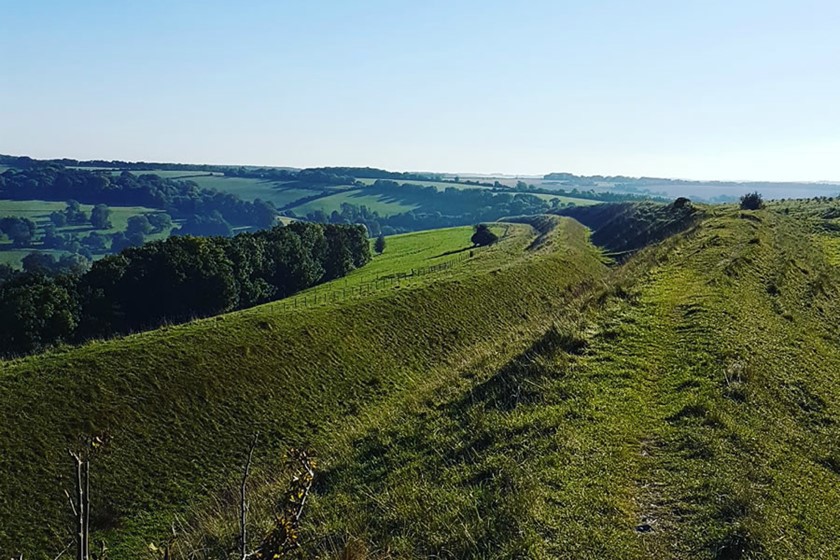 Dorset's storied roots stretch even further back than Hardy – in fact, many icons of the county's mythological past remain today. The Cerne Giant is one of the most famous, depicting a naked male figure bearing a club. It overlooks the village of Cerne Abbas and is said to be a symbol of fertility.
Look a little closer, and you'll find plenty more ancient relics. The South Dorset Ridgeway stretches between Dorchester and Weymouth and contains an incredible amount of Iron Age barrows, hillforts, stone circles, and henges. Eggardon Hill is one of the most notable. Situated on chalk uplands, it offers an incredible view of the neighbouring countryside. On a clear day, you might even be able to see all the way across Lyme Bay to South Devon. Two Bronze Age barrows remain at the fort, as well as well as two original entrances.
Next, head over to Pilsdon Pen, one of the county's most famous landmarks. With an elevation of 277m, it's perhaps best reserved for your more energetic days – but it's the perfect place for dog walks and to admire a hill-top, Iron Age fort.
Although recently increasing in appeal thanks to the sweeping, panoramic shots featured in popular BBC drama Broadchurch, Dorset's stunning coast has long been celebrated for its beauty. This 200 million-year-old coastline has been certified as a UNESCO World Heritage Site and is one of the most unique stretches of coast in the UK. The Durdle Door (a magnificent natural arch near Lulworth) and the Old Harry Rocks (striking chalk formations at Handfast Point) are perhaps the coast's most famous attractions.
The coast is spotted with idyllic beaches as well as picture-perfect villages, so there's something for everyone to enjoy here. Walkers should try the 630 mile-long South West Coast Path (not all in one go, of course!). Sherborne stands out to us as the quintessential Dorset town – expect impressive castles, winding cottage-lined streets and a feeling as though you've stepped back in time.
While we're on the subject of towns and villages, Dorset has many to explore. Don't be fooled by its quaint and peaceful exterior – those looking for lively nightlife and culture will find plenty to love here. Bournemouth offers bars, clubs, cinemas, comedy clubs and more, and that's not even mentioning its seven miles of golden, sandy beaches. Don't miss the Russell-Cotes Art Gallery and Museum.
Weymouth and Portland are the perfect choices for families. There's plenty of attractions to keep little ones entertained – we're talking pirate-themed golf, nature trails, and donkey rides. This is good old-fashioned British beach fun at its best.
For families looking for a slightly slower pace, check out the villages of Abbotsbury or Charmouth, both of which exude charm and offer a rich history to discover, not to mention Olde Worlde pubs. (don't worry, we'll touch more on those in a moment).
Delve deeper into Dorset's history by exploring any of its ancient castles and fortresses.
Lulworth Castle
Located just outside Wareham, Lulworth Castle was one of the first estates in the UK to embrace tourism, and now also offers a holiday park and coastal paths. The estate is run with nature and conservation in mind – it even has its own species of butterfly, the Lulworth Skipper! It also produces a jaw-dropping 25,000,000 litres of milk each year, which is stocked by Marks and Spencer.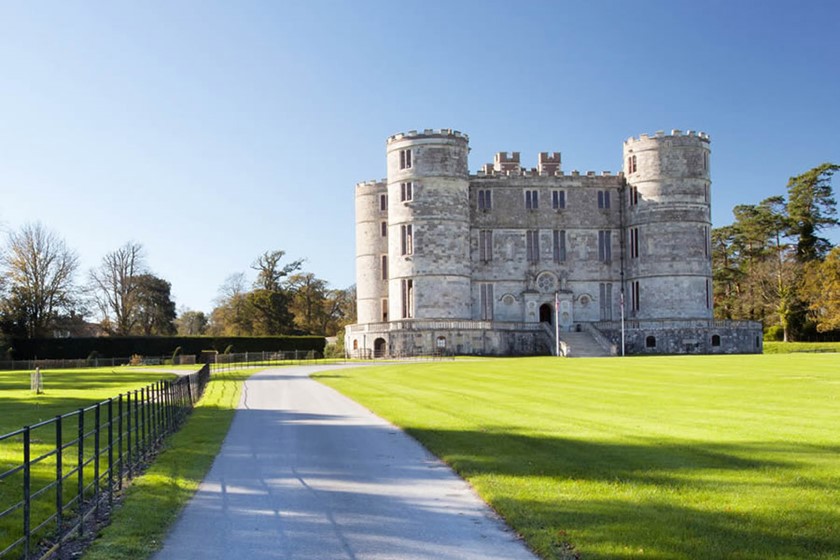 Lulworth Castle
During your visit, climb the tower for some incredible views out over the Dorset countryside, explore the basement rooms and relive the fire which almost destroyed the castle. Just make sure to leave some time to discover Lulworth Cove and the nearby Durdle Door.
Sherborne Castle
Sherborne Castle was originally built in the 12th century and was acquired by Sir Walter Ralleigh in 1592. It's been home to the Digby family since 1617, and now offers a lake, grand interiors, a tea room and an English Landscape Garden to enjoy. The castle even has its very own wines.
Corfe Castle
These historical ruins stand alone on a high hill, looming over the village of Corfe. The castle was used as a defensive site as far back as the Roman times, and would have originally been made out of wood – but in the 11th century, it was rebuilt in the stone you see today by William the Conquerer.
Fine dining eateries, lively bars, traditional pubs… Dorset has it all.
After a morning of exploring the Jurassic Coast, grab your caffeine fix at the Hive Beach Café, where you can enjoy views of Chesil Beach (made famous by Ian McEwan's novel) alongside your cappuccino. The Wishing Well and Tea Gardens Upwey is a charming and whimsical option for afternoon tea and delicious baked goods. While there, check out the natural spring which dates back to the Ice Age!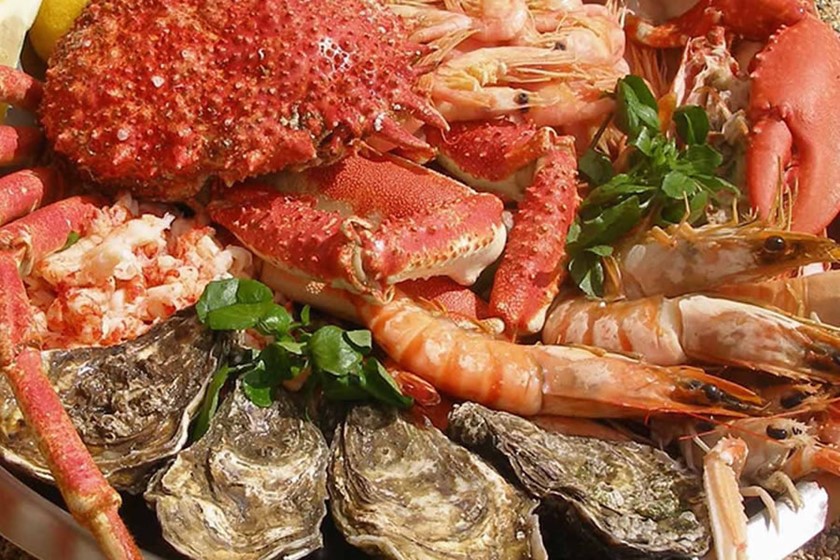 Seasfood at the Hive Beach Cafe
Thanks to its fertile soil and agricultural heritage, the county of Dorset is also home to plenty of working farms, and so the farmer's markets here are not to be missed. Have a chat with local producers as you pick up some organic goodies. Wareham Home Producer's Market takes place every Thursday, while Dorchester South St Farmer's Market can be found on South Street on the first Saturday of every month.
For a taste of historic England, head to the Halfway Inn in Wareham, named for its position in the centre of the Isle of Purbeck. It's the perfect place to grab some hearty food and award-winning ales before going on to explore Swanage and Studland Beach. For an evening meal with plenty of atmosphere, try the Greyhound Inn. Overlooking Corfe Castle, it gives the classic country pub a contemporary twist with fresh interiors and sustainable produce. There's no better place to warm up with some mulled wine on a chilly day.
Speaking of wine, Dorset has plenty of pubs and bars to check out. On a hazy summer evening, sit out on the terrace at the quaint Thimble Inn in Dorchester. Encapsulating the "chocolate box" look, the pub features a genuine thatched roof, hanging baskets, and sprawling gardens filled with woodlands and streams. This is the spirit of Dorset, captured in a single pub.