TOP PICKS
SIX OF THE MOST FAMOUS UK COUNTRY HOUSES
May 2023, by
We love country houses here at Big House Experience. Of course we do, we have some of the best country houses to rent in the UK. With our interest piqued, we thought we'd take a look at Britain's most famous country houses.
1. Highclere Castle, Hampshire
If it wasn't famous before Downton Abbey, it's certainly famous now. But Highclere Castle has much more to offer than being the film location for a costume soap opera. This stately home has a history spanning over 1,000 years and connections to kings, prime ministers and bishops across the centuries. You can wander through gardens designed by Capability Brown, view the Egyptian collection and marvel at the Lebanon Cedars. You can of course, also visit the rooms in the castle that serve as film sets for Downton Abbey.
While Highclere is old England, Meon House is New England (that's New England, USA). Stay at this modern timber-clad retreat in the South Downs and visit Highclere, which is just 40 minutes' drive away.
2. Blenheim Palace, Oxfordshire
Blenheim Palace is the seat of the Dukes of Marlborough and birthplace of Sir Winston Churchill; enough history alone to make it well worth a visit. Add to that, seasonal events such as the flower show, jousting exhibitions and food festivals. Throw in the amazing new Lost Gardens adventure park. Then tour the house, follow in Churchill's footsteps through the gardens, get lost in the maze and spot familiar film locations, from Harry Potter to James Bond. We haven't ranked our list of the most famous country houses but if we did, this would probably come out top for a visit.
Wantage Manor in Oxfordshire is under an hour from Blenheim Palace, and only slightly less impressive (well, we think so).
3. Chatsworth House, Derbyshire
Chatsworth House sits majestically in over 100 acres of garden and a further 1,800 acres of parkland. Home to the Devonshire family for nearly five centuries, it became one of the most visited UK stately homes under the stewardship of Deborah Cavendish, the Duchess of Devonshire and one of the famous Mitford sisters. With the house, gardens and park to explore, an extensive art collection that includes works by Rembrandt, Van Dyck, and Reynolds, and a farmyard and playground to delight the children, it's no surprise that this is one of the UK's favourite country houses. It also boasts one of the best gift shops, with estate preserves, drinks, sweet treats, and a showcase of products from local makers.
Stay at Limestone Grange, just down the road from Chatsworth House. You can visit Chatsworth and bring your treasures back from the shop for your own country house experience.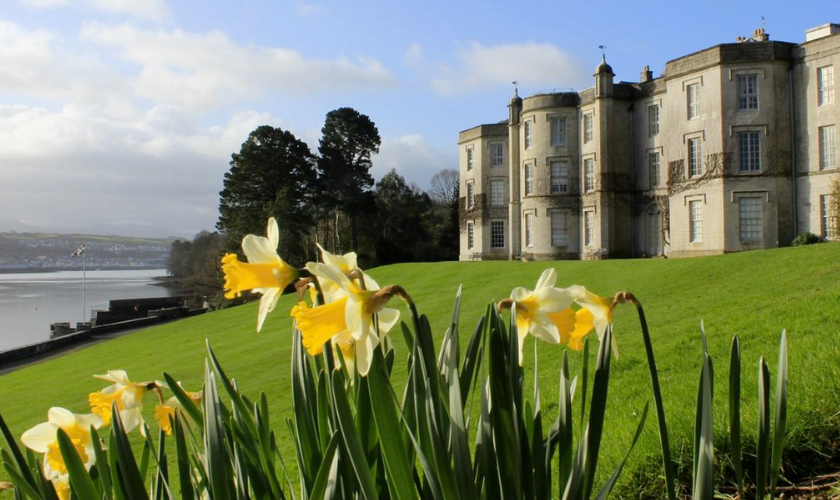 Plas Newydd sits in an unrivalled position on the Isle of Anglesey in Wales, with stunning views of the Menai Strait and Eyrie (Snowdonia). If the living landscape is not enough, head indoors for a look at Capriccio, a 58ft mural depicting a trompe-l'œil harbour scene with the Snowdonia mountains in the background. It was painted by Rex Whistler, one of the socialite 'Bright Young Things' of 1920s London. Now owned by the National Trust, Plas Newydd was once the seat of the Marquis of Anglesey who lost a leg at Waterloo. Rather bizarrely, his artificial limb is part of their Waterloo exhibition.
Close to Anglesey, on the beautiful Llyn Peninsula, stay at your own Welsh country house, Bromfield Hall, a pretty Georgian manor with a wisteria-clad veranda and 5 acres of gardens and woodlands (but no false legs).
5. Castle Howard, North Yorkshire
Castle Howard is another stunning stately home that has a star-studded TV and film career. Its breakthrough role was as Brideshead Castle in Brideshead Revisited back in the early 1980s. More recent appearances include Death Comes to Pemberley, Bridgerton and The Courtship. This grandest of country houses is set in 1,000 acres of Victorian gardens and is home to many rare artworks by, among others, Canaletto, Titian, and Gainsborough. If the children are kicking their heels, reward them with an afternoon on Skelf Island, Castle Howard's magical adventure playground, across a rope bridge over the lake.
It is just over an hour from Needlework Cottage in South Yorkshire to Castle Howard but it's certainly worth the drive for a super day out.
6. Scone Palace, Scotland
Visit the iconic location where Scottish kings and queens were once crowned at the famous stone of Scone. Scone Palace, in Perthshire is steeped in history. The Picts ruled from here as, much later, did Macbeth, and his enemy Malcolm. Robert the Bruce was crowned here with the blood of his rival Comyn. Today, you can visit the house and gardens and see a replica stone. The original – if it truly is the original – is in Edinburgh. The grounds at Scone Palace include a woodland playground, a walled garden, a copper and beech maze, and a Victorian pinetum, which includes one of the original giant Douglas Firs, grown from the seeds brought back from America by Sir David Douglas, after whom the trees are named.
Cailean House is around 50 minutes from Scone Palace through the Perthshire countryside. A handsome Queen Anne style villa, it enjoys sweeping views of the majestic Scottish landscape, to complement the royal stories of Scone Palace.
Famous country houses you can stay in
Not to be outdone, we have a few famous links to our own country houses.
Stay at High Peak Manor in Derbyshire and be inspired to write, because this is where Agatha Christie stayed many times and wrote some of her best known crime stories. And while we're talking famous writers, Jane Austen reputedly stayed at Winsham Manor in Somerset and maybe even used it as the inspiration for the Red House in her novel, Persuasion.
Meanwhile, Wantage Manor was once owned by Lord Wantage, one of the first recipients of the Victoria Cross and founder of the British Red Cross. And Madoc Manor in Pembrokeshire features a fireplace that once stood in the Houses of Parliament!
Whether you're after famous connections or simply a fine country house where you can gather for a break, check out our country houses to rent and choose your favourite. Who knows, one day there might even be a blue plaque telling the world that you once stayed there.

SIGN UP TO OUR NEWSLETTER
Be inspired with our latest houses and ideas