Top Picks
Six Dog-Friendly Beaches in Norfolk
Jun 2023, by
Norfolk is a fabulous destination for a UK holiday. The 84-mile coastline is full of beautiful beaches, ranging from good old fashioned bucket-and-spade beaches to wide, windswept beaches where the sea retreats as far as the eye can see.
However, if you are bringing your pooch on holiday with you (and why wouldn't you?), in common with other coastal areas, you will find there are dog restrictions on many of the beaches. With this in mind, we've pulled together a list of dog-friendly beaches in Norfolk, where you can confidently take the dog. You can get to all these beaches from any of our luxury dog-friendly cottages in Norfolk.
Old Hunstanton Beach is a vast expanse of sand, sea and sky; as good a beach as you'll ever find for blowing away the cobwebs and letting the dogs run around to their heart's content. It's not to be mixed up with its sister beach, Hunstanton Beach (without the old), which is a more traditional seaside and ice creams kind of place. Old Hunstanton Beach is served by a large car park and there are two nearby  dog-friendly spots for a bite to eat and a drink, The Lodge Inn and the Old Town Beach Café. 
It's worth the half-mile walk to Thornham Beach because once you get there, it's an uncrowded beach with lots of soft white sand, wide open space and no dog restrictions. A quiet beach, it's part of an Area of Outstanding Natural Beauty and a trip here is good for the soul. At the same time it wears out the dog, so they will happily snooze when you get back to the Lifeboat Inn in Thornham for some refreshments. 
Rock pooling and fossil hunting are the two main pastimes on West Runton Beach, so it's a playground for children and an exciting beach for dogs. In fact, this is where the West Runton Elephant was found, an 600,000-year-old mammoth fossil. You need to keep the dog on the lead for the first little part of the beach but once you're past that, there are no dog restrictions at all. To complete the picture, West Runton Beach is a Blue Flag beach with lifeguards, so take your swimming togs.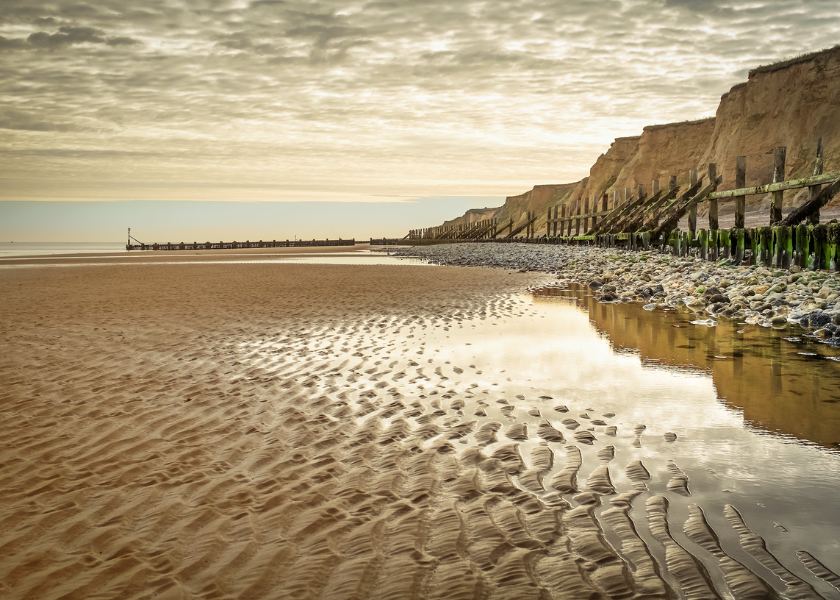 Happisburgh Beach tells a story that spans from 800,000 or more years ago to the modern day. In 2013, footprints were revealed in the sediment by the low tide, which experts confirmed as the earliest evidence of hominids outside Africa. You won't see them though as were washed away within two weeks! And today's story? Much like its pronunciation (Haysbrough), Happisburgh Beach is showing signs of erosion, a common feature here on the Norfolk coast. The beach itself is in fine fettle but the clifftops around it are slowly disappearing. All that said, it's a lovely beach in close proximity to an iconic lighthouse. There's a car park, toilets and a children's play area too, so it's not all about the dog either.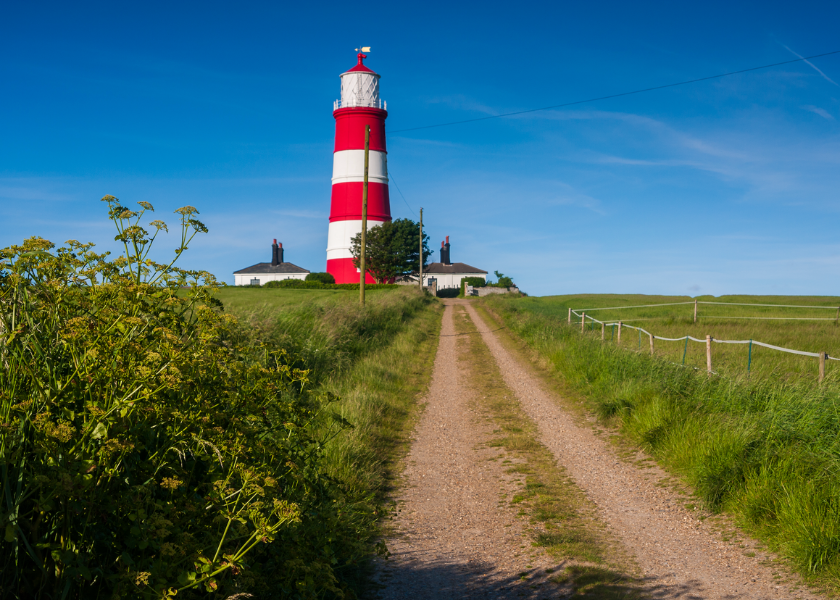 Waxham Beach is a rare find. It's almost a secret beach. Off-the-beaten-track, it has sweeping views and is backed by sand dunes (and some man-made anti-erosion structures). It is a beach for adventurers with a good walk to get to it and no amenities once you are there. None of which will put the dog off!  But if you like your beaches unspoilt, uncrowded and completely unrestricted for dogs, this is the one for you.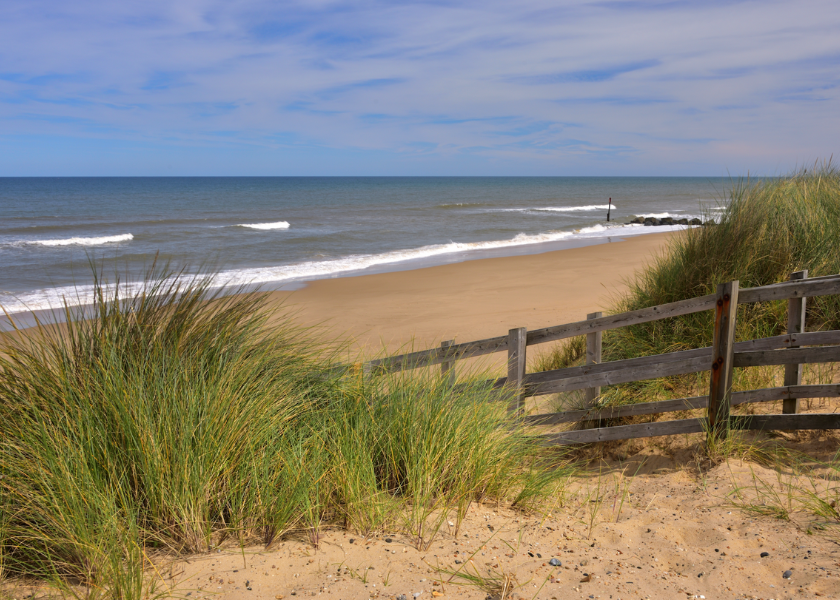 Winterton Beach and neighbouring Horsey Beach are famous for their seals. The opposite of most beaches, it is out of bounds for dogs in the winter, from about early November to the end of January, but it is open for the rest of the year and there are no dog restrictions. And what's special about the beach, is that you are likely to see the seals all year round, bobbing in the water or basking in the sun in quiet spots. It's another beautiful beach, backed by sand dunes and with plenty of space to walk the dog. You do have to steer the dog clear of the seals though and keep them on a lead.
Stay in Norfolk at one of our large dog-friendly cottages and houses
There are many more wonderful beaches in Norfolk, all with varying levels of restrictions for dogs in the summer months. That said, most of the beaches have sections where you can go with the dog, and almost all the beaches are dog friendly outside of the April to September holiday season (with the exception of the seal beaches).
Our dog-friendly holiday properties in Norfolk are available all year round and all are within striking distance of the coast and all the lovely dog-friendly beaches in Norfolk that we have picked out here. You can book online or get in touch if you have any questions about these or any of our other dog-friendly properties.

SIGN UP FOR OUR NEWSLETTER
Be inspired with our latest houses and ideas