Destination Guide
The ultimate Derbyshire holiday
Aug 2019, by
Derbyshire: home to vast, sweeping dales, idyllic market towns, and a rich industrial heritage. Located in the East Midlands, it also encompasses much of the Peak District, which sits at the south of the Pennines. A holiday to Derbyshire has so much to offer without the hassle and organisation that comes with a trip abroad. Read on to find out more about how to get the most out of your Derbyshire escape.
1. Hiking in the Peak District
When you stay in Derbyshire, you'll have one of the UK's most well-known and well-loved parks right on your doorstep. The Peak District is characterised by dramatic hillsides, a rugged and rocky landscape and perhaps surprisingly – gorges and lakes, but no soaring peaks. Comprising 555 sq miles of sprawling countryside, there's plenty of opportunities to get your fresh air fix. If you're looking for a gentle walk, try Mam Tor – at just five miles, it'll only take an easy-going 2.5 hours and yet still offers spectacular views. The hill is said to date back to the Bronze Age and has provided hikers with a laid-back route to explore for decades. More experienced hikers can try the Kinder Scout trail, an eight-mile walk from Edale Village. There are some tricky spots, so you'll need to pack those hiking boots, but it shouldn't take you any longer than five hours to complete.
2. Become immersed in history
Derbyshire is peppered with historic homes and museums, making it the perfect spot to learn more about the region's past. Start at Chatsworth House, also known as the "Palace of the Peak," which was used as a location for the 2005 Pride and Prejudice film starring Colin Firth and Keira Knightley. Inside the house, you'll find lavishly appointed bedrooms, period furniture and impressive works of art. The property also offers 25 sq feet of gardens to explore.
Next, head to Hardwick Hall, an Elizabethan property dating back to the 1500s. The house offers a glimpse into the "Last Lady of Hardwick," Duchess Evelyn. Lastly, a trip to Bolsover Castle will ignite your imagination. This is a true fairy-tale castle that offers spectacular views out over the Derbyshire countryside. Visit the castle for a glimpse into its storied past, and explore the rooms of the luxurious "Little Castle."
3. Quaint towns and villages
There are so many hidden gems to discover in Derbyshire. Start off at Buxton, which is often described as the "Gateway to the Peak District." It's distinctive for its elegant Victorian and Georgian architecture, the most famous example of which being the magnificent Georgian Crescent, and has been a popular tourist destination since the 14thcentury. While in Buxton, don't miss the Solomon's Temple Monument.
Other Derbyshire towns of note include Bakewell, probably best-known for being the birthplace of the Bakewell Tart, which was said to have originated when a local maid's tart went wrong. Make sure to try the jam-and-almond masterpiece (washed down with a cup of tea) at any one of the town's quaint cafes. Finally, head to Ashbourne, whose streets still manage to maintain a medieval feel.
Derbyshire has a long, rich railway history – why not explore it on your Derbyshire holiday? Take a step back in time and step aboard an authentic steam train with Peak Rail, riding along the preserved railway between the stations of Matlock and Rowsley. Ecclesbourne Valley Railway is the county's longest heritage railway and uses diesel railcars and steam-hauled services to travel between Wirksworth and Duffield. To learn more about the county's history with trams, visit the National Tramway Museum at Crich Tramway Village. A day pass lets you ride all day, and you can also watch a team of experts working on and restoring the vehicles.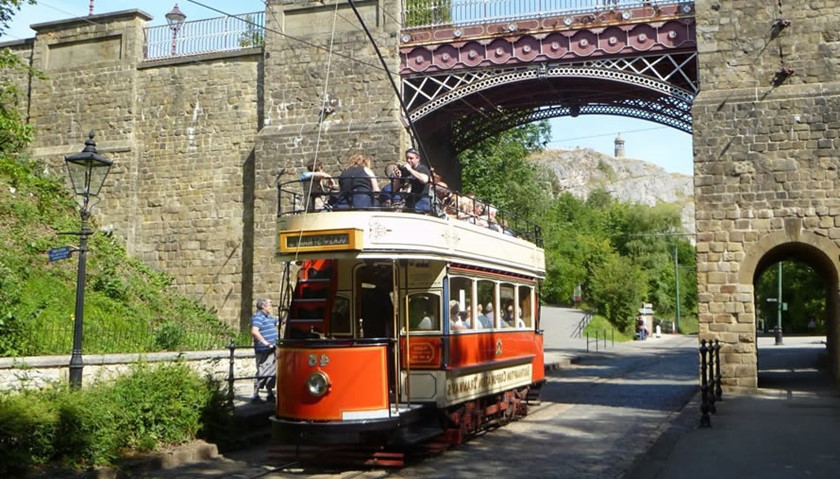 Spotlight-stealing Peak District aside, there are plenty of outdoor attractions to enjoy in Derbyshire. We recommend starting at the Peak Cavern, which is the UK's largest cave entrance. Enjoy a tour to check out the unusual underground formations of the cave network. Next, head to the Heights of Abraham, which is a park situated on top of a hill and only accessed by cable-car. Here you can enjoy a range of walking trails, fossil exhibitions, and cavern tours.
If you haven't yet had your fill of mysterious underground caves, head to Poole's Cavern, where you'll find natural limestone caves as well as a range of trails to explore.
Book a big house in Derbyshire