DESTINATION GUIDE
How to eat and drink your way around Devon
May 2023, by
They say that no one place can have it all, but Devon certainly comes close. Rugged limestone cliffs and sun-soaked beaches meet layers of rambling countryside dotted with charming traditional villages.
There's so much to see and do in Devon, but we're starting at the top of the priority list: eating and drinking. Here are some of our favourite Devon staples and where to find them.
Not under any circumstances to be confused with the Cornish variety, Devonshire Cream Tea follows its own very strict set of rules. Begin with a warm, fluffy, freshly baked scone and slather with decadent clotted cream. Next comes sweet, sticky ruby-red jam. Wash the whole thing down with a steaming pot of tea, and you have yourself the recipe for a blissful afternoon.
There's plenty of places to enjoy a traditional cream tea in Devon. The Home Café is one of the most celebrated – it's an award-winning spot perched on the edge of the undulating Dartmoor National Park. Using only the best and freshest of local ingredients, the café also offers breakfast, lunch, and dinner. If you're looking for a truly grand setting, try the Langdon Court Hotel and Manor, which is set in a 16th-century estate. Did we mention the 10 acres of woodlands? They're the perfect place to walk off that cream tea.
Devon certainly knows how to get its sugar fix: two of the county's most famous exports are fudge and ice cream. To taste some for yourself, simply scout out one of the many farm shops dotted around the countryside.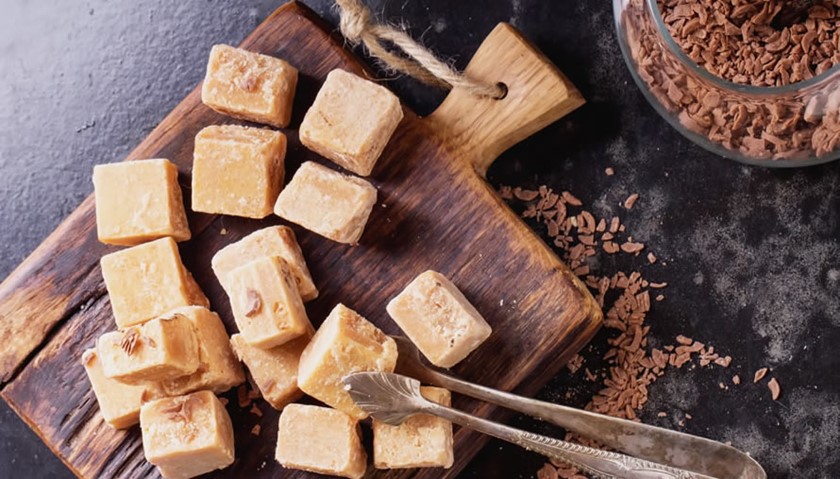 Some Devonshire fudge producers have had success across the country. Roly's Fudge began in the late 80s when a husband and wife team started making the rich confectionary in the kitchen of their thatched cottage. Crafted in the traditional way using a large copper cauldron and utilising only natural ingredients, they used creamy Devon butter to give it the distinctive rich taste. The fudge is still made on site in front of customers, and they now have 29 stores nationwide. Don't miss the cherry Bakewell variety. Or, why not have a go at making some fudge yourself at the Fudge Making Kitchen?
When it comes to ice cream, Devon is home to a scattering of dairies making delicious ice cream using traditional methods. Tennacott Farm Dairy in North Devon's Bideford uses milk from their happily grazing cows to create imaginative flavours like Coffee Crunch, while award-winning Otter Valley Dairy sees three generations of a family working together, offering artisanal varieties such as Strawberry and Balsamic Vinegar Sorbet.
Devon is among the best places in the world to grow cider apples, and so cider is one of Devon's most famous exports. In particular, you'll find that scrumpy is much celebrated here. The term "scrumpy" refers to certain types of cider being produced in the south west of England, often using unselected apples, giving it a cloudy appearance and rougher, fuller flavour – and that all-important "bite."
For a true taste of scrumpy, head to one of Devon's many orchards, where you'll be able to take a tour or do a tasting. Sandford Orchards offers a shop and tasting room as well as a 1.5-hour tour – learn about how the orchard uses traditional methods to produce modern ciders, and of course, enjoy some scrumpy at the tour's culmination!
Devon is particularly well-known for dairy production, meaning that the cheese here is second to none. Many cheesemongers are dotted throughout the county, producing award-winning local cheese.
Quicke's Cheese, situated just a few minutes from Exeter, is a great place to go tasting – it's home to a farm shop and a kitchen, using its own cheeses as the central ingredient in innovative dishes. Take a cheese tour to find out more about the process of cheese-making, look out for regular events, or even get involved yourself at the Academy of Cheese – after which you can secure the title of "Master of Cheese." Oh, and don't leave without trying some Devonshire red or Double Devonshire Truckle.