FEATURE
How To Plan The Perfect House Party
May 2023, by
It's time to party.
With a fantastic selection of party houses in the UK, we can provide the venue, then there are a few more details you need to iron out for the perfect party.
For a start, who's invited (and who's not invited)? What are they going to be eating and drinking? Fairy lights just outside or all through the house? Can you get Harry Styles to do a set? (let us know if you can, we'd like his details!)
There's a lot to think about. To help you plan your house party, here's our helpful guide to some of the main details you should consider in your planning.
Numbers matter. How many people are coming to your party? Is it a handful of people for an intimate dinner party? Is it a family gathering of all the generations? Or perhaps it's a blend of friends and family to celebrate a birthday or anniversary. Consider the capacity of your party house and make sure that there's room for everybody to mingle - and to escape for a moment's peace.
Chemistry matters too. When you're booking a party house, remember you'll be together for the whole weekend and not just a few hours at the party itself. Have you seen the surprise barn dance episode in Gavin and Stacey? You don't really want a  "What the hell is Jean doing here?" moment, do you? It might not be quite so dramatic at your party - politeness generally prevails - but chemistry is certainly something to consider.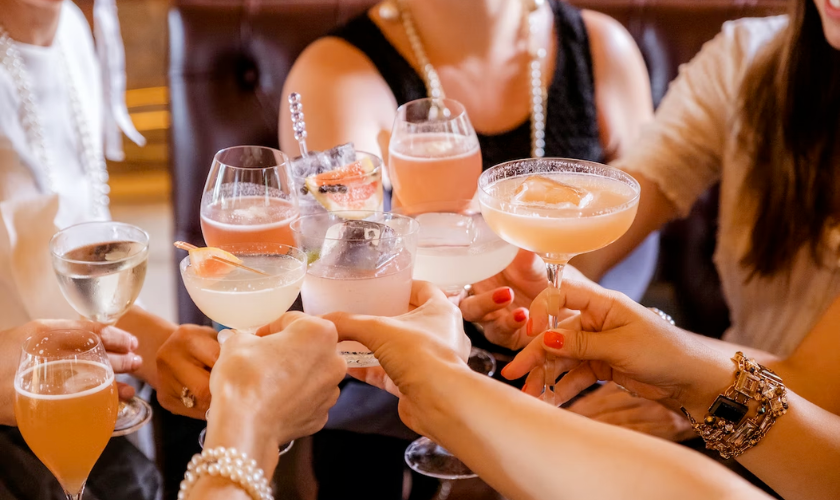 Guest list sorted, is your party going to have a theme? If it's a milestone birthday, you could go back to the era you were born, have a 70s or 80s party, a beach party, fancy dress, or maybe just black tie and cocktail dresses to elevate the vibe. A theme can add excitement and break the ice so that your party is off to a great start, but it's not essential.
Whatever your theme or dress code, make sure you take photos. Disposable cameras are great for this or you could get everyone to share photos digitally via a WhatsApp or Messenger group. A professional photographer or a photo booth is a great idea too, with glossy photos people can take home as a memento. Let us know if you would like us to put you in touch with a photographer local to your party house.
Let them eat cake and drink gin
On to the catering. Will it be silver service and pass-the-port or just a few drinks and nibbles?
Drinks are essential, of course. All the usual, including fizz, beers, wine and gins, but you could add to the occasion with some special cocktails or a punch. Make sure you have plenty of water, tea, coffee and soft drinks too.
The big decision with food is whether you are going to prepare your own or hire the caterers. We can put you in touch with caterers for all our party houses, and big houses also come with big kitchens, so there's no worry about storage, prepping and serving. A cold buffet is easiest, but the sky's the limit if you bring in the caterers.
Don't forget the barbecue in summer. Some of our houses even have outside pizza ovens. One more thing; check any special dietary requirements. You will certainly need some vegetarian options, and food allergies and intolerances are another important consideration.
A party needs music. It's the law. If Harry is booked for the weekend, there's aways Karaoke. Or you might prefer some easy jazz on a grand piano as you sip your Singapore Slings.
Most of our houses have a Bluetooth sound system so sorting out your playlist is the main thing to think about here. But remember, just because you think the 4th track on Kraftwerk's 2nd album is a much overlooked masterpiece, it's not likely anyone else will agree and it could somewhat dampen the atmosphere.
Choose your music based on your theme, the ages and interests of your guests and the known appeal of some all-round crowd-pleasers. Like it or not, Abba's Dancing Queen gets them dancing!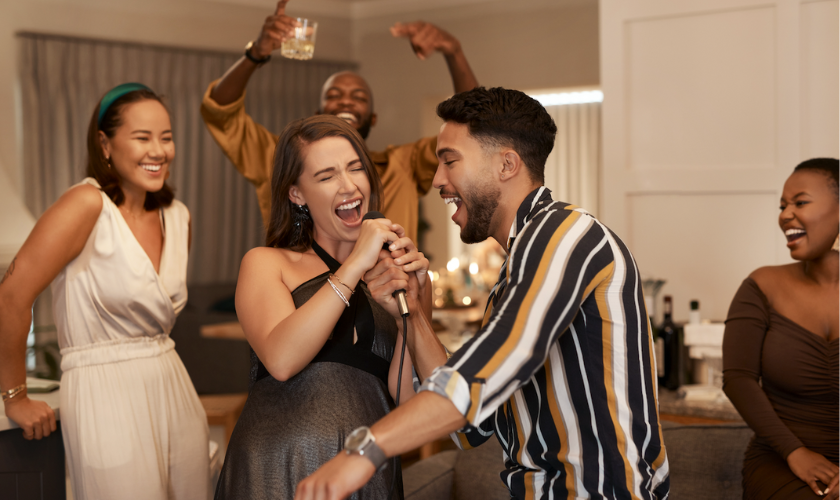 It's not just about the music though. Are you going to play some games? Have speeches? Do a quiz? There are lots of options and by the same token, it can be enough just to get all your favourite people together, without interrupting the flow.
The beauty of getting away to a party house for the weekend is that there are lots of additional fun activities you can enjoy. Take a look at out party houses with hot tubs or swimming pools. Many have games room too, for pool, billiards, table football and board games.
When you're bringing together the generations, it's wise to have something for the children. Trampolines, ping pong tables and outdoor play areas are great for tiring the kids out, followed by a movie night when they get bored of the party - many of our houses have their own cinema rooms.
Let's get the party started
With your party ideas in place, now it's time to make it happen! Here's a checklist of things to do in order to make a success of your party:
Book your venue – have a browse of our party houses in the UK.
Invite your guests – whether it's via a WhatsApp group or by embossed invitations with hand calligraphy, just make sure they know all the details.
Book your caterers or plan your own menu – don't forget the cake if it's a celebration.
Shop for the food and drinks – meals, nibbles, drinks, soft drinks, veggie options. Consider disposable plates and plastic glasses if you're going to be outside. Have you remembered candles for the cake?
Decorate the party room – most of our houses are party-ready but if you are planning a themed party, give us a shout and we'll liaise with the owners about what they allow.
Prepare your party food and drink.
Switch on the fairy lights. Set the music up. Put your party pants on.
Relax and enjoy a memorable night with your nearest and dearest.
Of course, the most important part of a party is being with people who make each other happy. Many of our guests stay in our houses for exactly that reason, getting together for celebrations, annual get-togethers or just to reconnect and enjoy a holiday together. Book your party house today and look forward to those happy times.

SIGN UP TO OUR NEWSLETTER
Be inspired with our latest houses and ideas